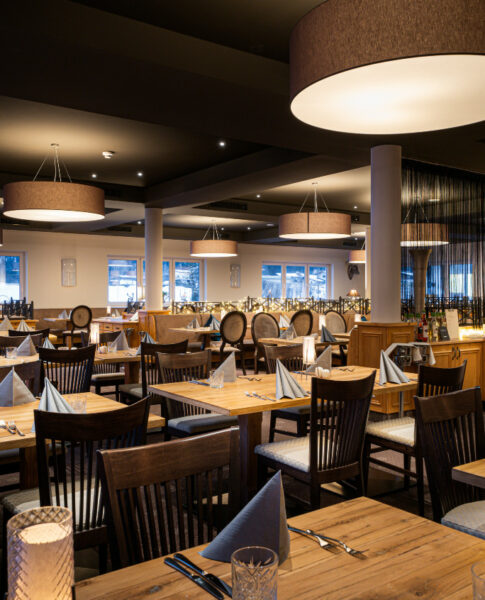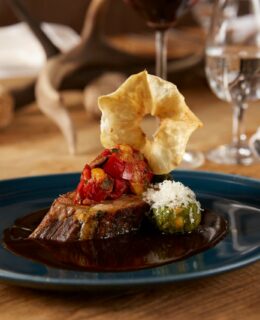 Restaurant Kulinarium
Restaurant Waidring: Tyrolean cooking with a modern touch
The moment you enter the Kulinarium Restaurant Waidring, you sense that this is a place to spend quality time. Not only because the wooden furniture and the brown colour scheme radiate so much contentment, but also because you have traditional Tyrolean hospitality served to you on a plate. The way to a man's (or a woman's!) heart is through his or her stomach, so they say. The menu is not only a homage to the region, but also a nod to international cuisine. When preparing and cooking traditional delicacies, our chefs think global – the inspiration for refinement come from all over the world. These two elements are also reflected in the interior décor. The huge ceiling lights with their warm glow and brown shades are in keeping with international fashion, while the cow heads on the wall remind you of the main source of the local farmers' income.
Opening hours
Monday till Sunday
06:30pm – 08:30pm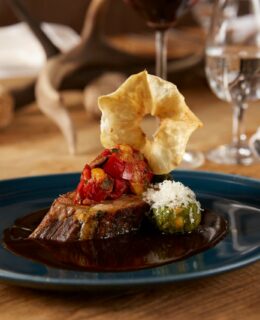 Good morning!
Breakfast buffet at the Kulinarium Restaurant Waidring: Start the day invigorated
No matter what you have planned for the day ahead, there's nothing like a good breakfast. Do you have a sweet tooth? Or do you prefer the savoury selection? Don't worry, you don't have to specify in advance, as the breakfast buffet has a bit of everything. Our regional specialities, the 'show cooking station', where your egg order is prepared, and our smoothies with alpine herbs will set you up nicely for the day. The breakfast buffet is laid out either in the Kulinarium Restaurant Waidring or on the sun terrace (when the weather is nice).