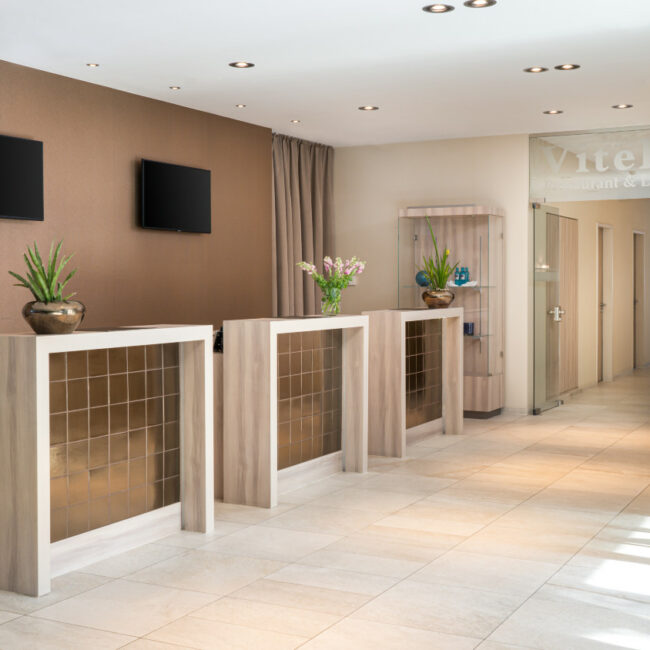 Hotel Kleve: Good local links, perfect for holidaymakers and business travellers
The elaya hotel kleve boasts a central yet idyllic location direct on the banks of the Spoy canal. It is the perfect starting point if you are planning a holiday in the region or your business trip takes you to Kleve. The town centre, the Dutch border, the historic gardens and many other sights are just a few minutes away from the hotel. Our attentive team have Lower Rhine charm in their blood. They will happily talk to you about their love of the region at any time.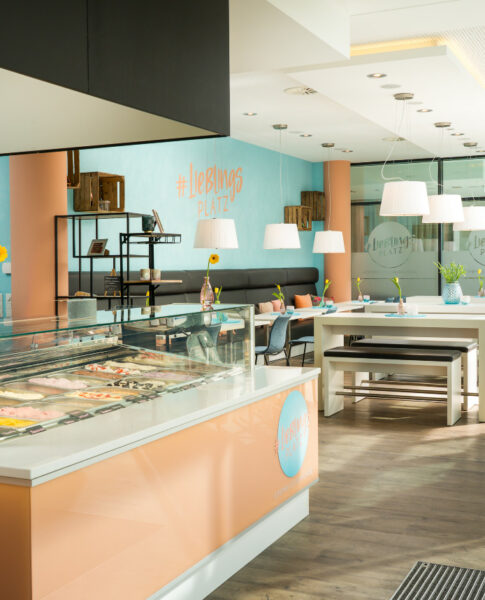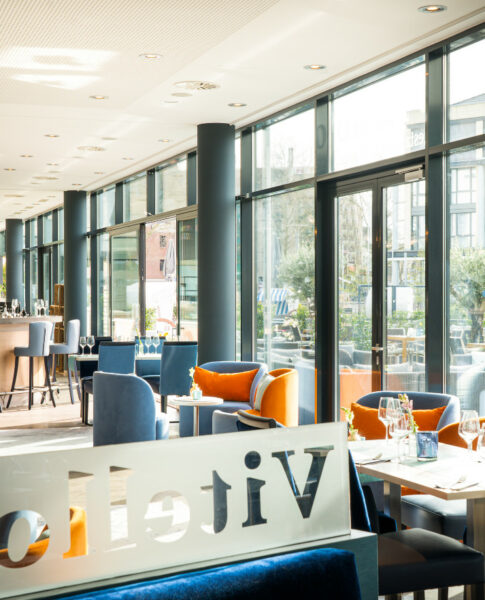 elaya hotel kleve
Always cheerful, from the first 'Hello' to the 'Come back soon'
If you have ever spent a night at our elaya hotel kleve, you will opt for our friendly team and lovely atmosphere on your next visit too. We have strong links to the town, its people and the surrounding area and that is very much evident from the moment you arrive. You can also see that our stylish interior and our modern room and restaurant designs put a smile on people's faces, whether they are here to work or to relax. The real highlights are our sun terrace and the ice-cream parlour!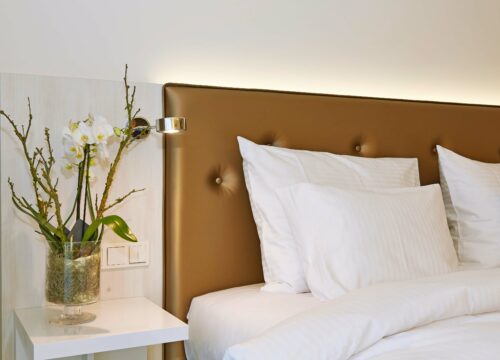 Guest Reviews
Happy Hubbub: The Buzz from Our Beloved Guests!
15.11.2023
HECTOR
Great hotel very well in place. Clean and all its personnel at your disposal when needed. I'll back for sure.
13.11.2023
Laetitia
We lost our daughter's stuffed animal and they did everything to send it back. The costumers service is amazing. Breakfast was nice and the room was very...
06.11.2023
jos
no complains at all. we are used to use two pillows pp and we got the extra ones in minutes. Its another formula but this accomodation is absolutely worth...
04.11.2023
Nyaradzo
Positive: Attentive staff, clean, comfortable. Great proximity to Hoschule Rhein-Waal. My curtains were not placed properly so were falling but this was...
22.10.2023
Nyaradzo
Positive: Everything was great. The staff even called to check on me as I checked in very late. Negative: Nothing really.
01.10.2023
Kevin Simons
We were actually lucky. On Friday we could enjoy live music at Vitello on the ground floor and the day after was a concert outside. We already decided we...
28.09.2023
Ricardo512
Positive: Our room was great and the breakfast was very good and tasty. Negative: There were too many cigarette trash around the hotel grounds to include the...
16.09.2023
LINDA
Positive: Hotel was absolutely perfect 🙂 no complaints. We had a suite on the top floor views were amazing! Spotlessly clean. Negative: Only one tiny thing...
Photos
You can see from its styling that the elaya hotel kleve has a sunny and relaxed vibe. The earthy tones in the lobby and the rooms create a calm atmosphere, with bright accent colours in just the right places. You can see how well it works here.
Deals & activities
Imagine you arrive at the hotel and we have already prepared some lovely extras for you, doesn't that sound good! All you need to do is opt for one of our package deals before you get here. Or you can just book the accommodation and add an experience in the region later.
Insider tips
The elaya hotel kleve is surrounded by interesting sights. You can even see the Spoy river and Schwanenburg Castle from the sun terrace and the superior rooms. But our insiders can tell you what direction to walk, cycle or travel in to discover more!
Photos
A warm welcome to the beautiful lower Rhine.

Photos
The restaurant "Vitello Land & Meer" serves pleasure.
Photos
Relax on the terrace as the day fades away.
Photos
Our ice cream will make our "Lieblingsplatz" to your favourite place.


Photos
Our meetings & events in Kleve.
Suite
Deluxe Room
Superior Room
Standard Room
Hotel deals
Offers that entice.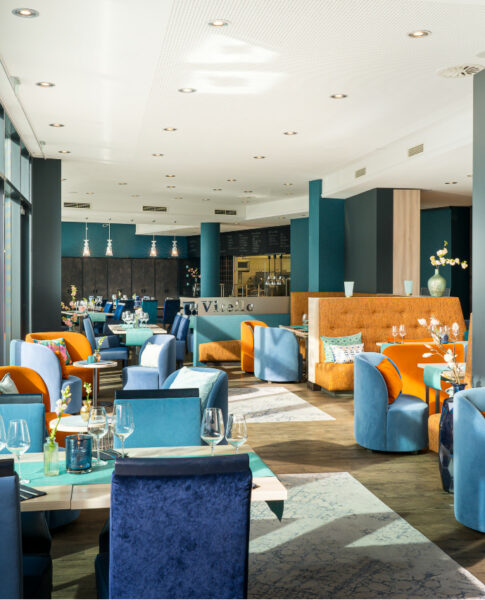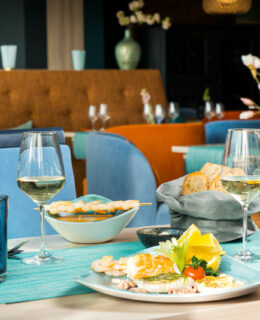 Food & drinks
Restaurant & bar
The colour blue-grey has a calming effect and textiles create warmth. This combination, combined with wooden floors and panels and panoramic windows looking over the sun terrace add up to the aesthetic that defines our 'Vitello Land & Meer' restaurant. And the food is not bad either …
Meetings & events
Space for creativity, individuality and inspiration, either partitioned or as one space, whatever suits you best. Whatever you choose, there is always lots of daylight streaming in through the big windows into the airy interior, from the carpet and the chairs to the curtains.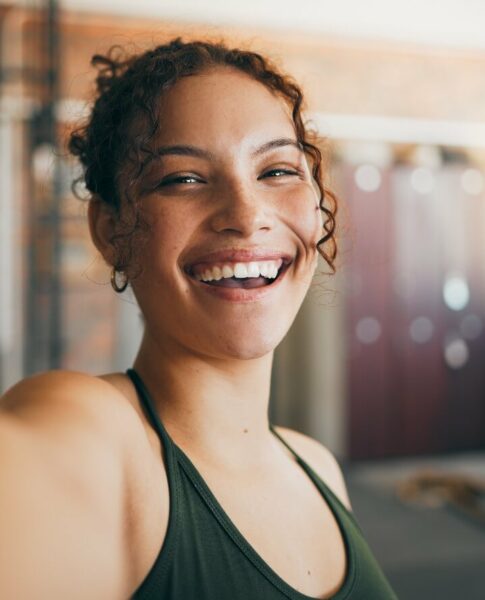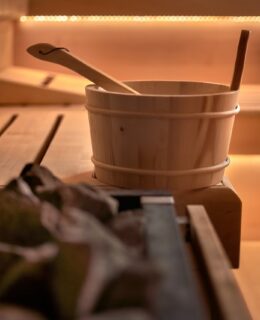 Sauna & Fitness
You're sweating either way
Whether you are staying with us for business or pleasure, relaxation is always important. Of course, it is down to you how you choose to relax, but that doesn't mean we can't give you plenty of options, including a sauna and a gym.
Our location
Location & contact
We have already prepared a little something for you, the cushions on the steps along the banks of the Spoy canal. Would you rather go shopping in the town centre or explore the region by bike first? All good, the location of the elaya hotel kleve is perfect for exploring in and around Kleve. We are easy to find with any means of transport.
Need help?
Contact us at: +49 (0) 2821 71180 or  send us an e-mail
FAQ
General
Food & Drinks
Rooms
Does the hotel have a car park?
We have our own underground car park with 70 parking spaces.
How much is your undergound car park?
We charge 15€ per 24 hours of parking.
Is the reception staffed constantly?
Yes, our reception is there for you 24/7.
Is it possible to arrive late?
Yes, please let us know in advance so that we can arrange this.
Are late check-out and early check-in possible?
You can book a late check-out for a surcharge of 40€. You'll have to leave your room by 6pm.
Are dogs allowed?
Yes, we are happy if you bring your dog.
One animal is free of charge. For each additional animal we charge 15€.
Do you offer discounts for children?
If your children are younger than 13 years, they stay in your room for free.
How far is it to the city centre?
The beautiful old town of Kleve is only a few minutes' walk away.
How much does your breakfast cost and at what times can I get breakfast?
During the week, our breakfast is available from 6:30 am – 10:00 am. On weekends from 8:00 am – 11:00 am.
Adults pay 16,50€ for our breakfast. Children up to 12 have breakfast free of charge.
Do you also offer lunch and dinner?
Our restaurant Vitello Land & Meer also offers lunch and dinner service.
In our ice cream parlour "#Lieblingsplatz" you can get delicious ice cream and waffles.
Does the hotel have a bar?
Yes, feel free to drop by!
What room categories do you offer?
We have rooms in the Standard and Superior categories. We also have barrier-free rooms and suites.
What are the differences between the room categories?
Our rooms differ in size and furnishings.
Are there rooms with separate beds?
Yes, in our rooms the beds can be separated.
Do I have a minibar in my room?
Yes, most of our rooms have a minibar.
Can I book rooms that are next to each other?
Yes, please let us know if you would like to have adjoining rooms. Depending on availability, we will be happy to arrange this for you.