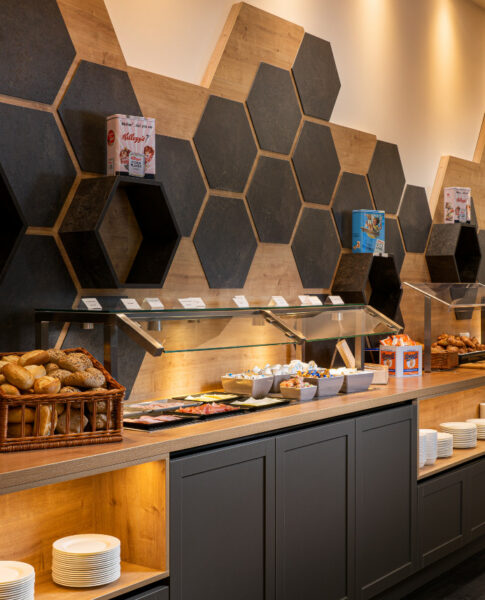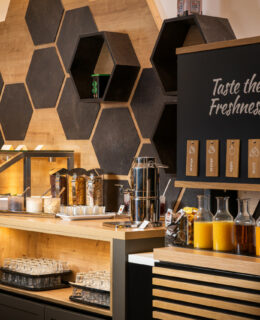 The breakfast restaurant
Breakfast Leipzig. Breakfast at elaya hotel leipzig city center.
The wall, artfully enhanced by its honeycomb pattern of light and dark wood, harmonises perfectly with the floor and tables in the breakfast room. Modern wire-mesh chairs (also available as high chairs) lend this room an airy feel. Cognac-coloured bench seating and a varied mix of ceiling lights impart a sense of well-being at this early hour. Your taste buds will share the same sensation when you tuck into the sumptuous selection of cold and hot dishes from the breakfast buffet. They include scrambled eggs, bacon, hash browns and boiled eggs, numerous types of bread and fruit, and of course cheese and sausage. The wall at the far end of the breakfast room consists of a large mural, colour coordinated with the flowing curtains in vibrant blue. Enjoy your breakfast Leipzig at the elaya hotel.
Breakfast hours
Monday till Friday
06:30am – 10:00am
Saturday, Sunday and Holidays
07:00am – 11:00am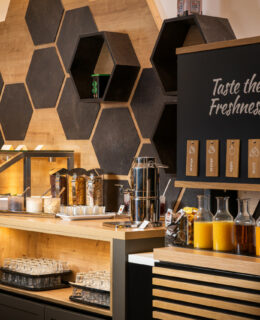 Breakfast in Leipzig
The breakfast buffet in the elaya hotel leipzig city center.
Breakfast in Leipzig
Fresh orange juice and warm bread. The best way to start the day.
Breakfast in Leipzig
As our guest you always get free coffee.