elaya hotel hamburg finkenwerder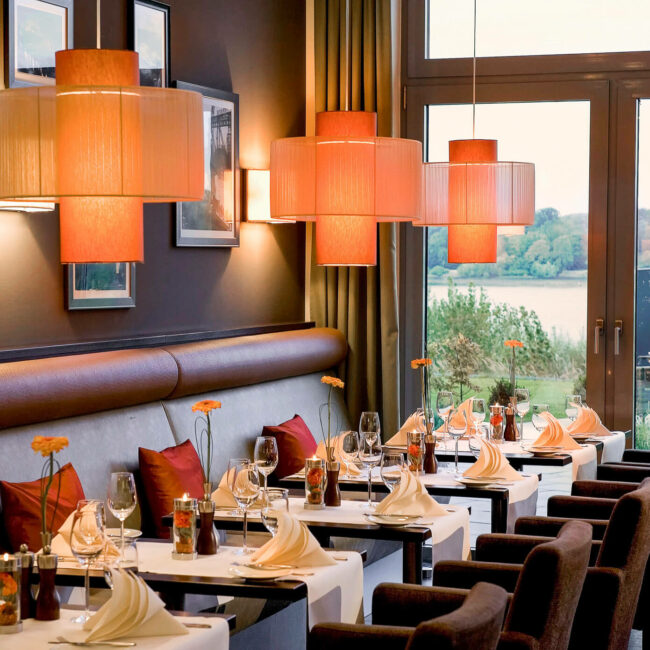 Hamburg hotel with Elbe view – The elaya hotel hamburg finkenwerder
Hamburg is the gateway to the world. At our hotel in Hamburg, you can enjoy a cosmopolitan setting without missing out on the Hanseatic feel. The River View restaurant and sun terrace boast not only a stunning view but also creative crossover cuisine based on local produce, bound to impress your (holiday) companion or your business partner. For an even more intimate atmosphere, there is your elegant room with its warm, pleasant colour scheme.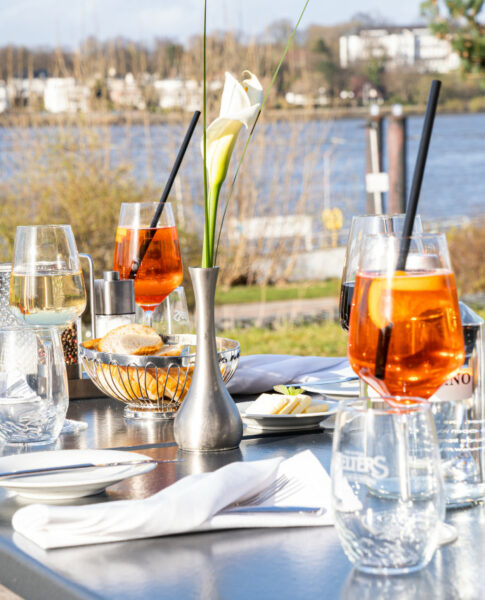 elaya hotel hamburg finkenwerder
A love letter to Hamburg
If you want to fall in love with the Hanseatic City, you need to book a hotel in Hamburg that shows off the loveliest sides of the city. One of these is the Elbe. As you relax on a deckchair and listen to the seagulls, you cast your eye over the water and the ships bustling one way and the other. We are at the interface between the city and the countryside, the place where business meetings intersect with leisure activities. Airbus is very close by and it is also very easy to explore the 'Old Country'.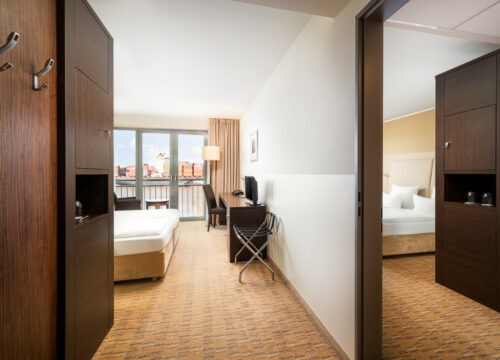 elaya hotel hamburg finkenwerder
Photos
We can say with absolute certainty that Hamburg has sunny days too. And they are particularly lovely. Here, we give you some ideas of how you can spend your time outside and in the cosy, hygge interior of our elaya hotel hamburg finkenwerder if you are not quite as lucky with the weather.
Deals & activities

It is always good to have options. And sometimes, it's an advantage to have them selected in advance. We have put together our packages so that every deal is an excellent choice. But if you prefer a little spontaneity, you can simply book experiences later on top of your accommodation.
Insider tips
When was the last time you took a ferry? Maybe you never have. Now is your chance, and we promise you that it's a great way to arrive. Of course, you can also drive or take public transport. We also have some great insider tips for your stay in Hamburg.
Photos
Our location is simply stunning: directly on the Elbe River
Photos
Welcome to the elaya hotel hamburg finkenwerder!
Photos
Rooms & suites with a view.
Photos
Breakfast with a view to the Elbe River.
Photos
Meetings & events at the elaya hotel hamburg finkenwerder
Suite
Executive Room
Deluxe Room
Superior Room
Standard Room
Family Room
hotel deals
Make your stay in Hamburg memorable with our latest hotel deals!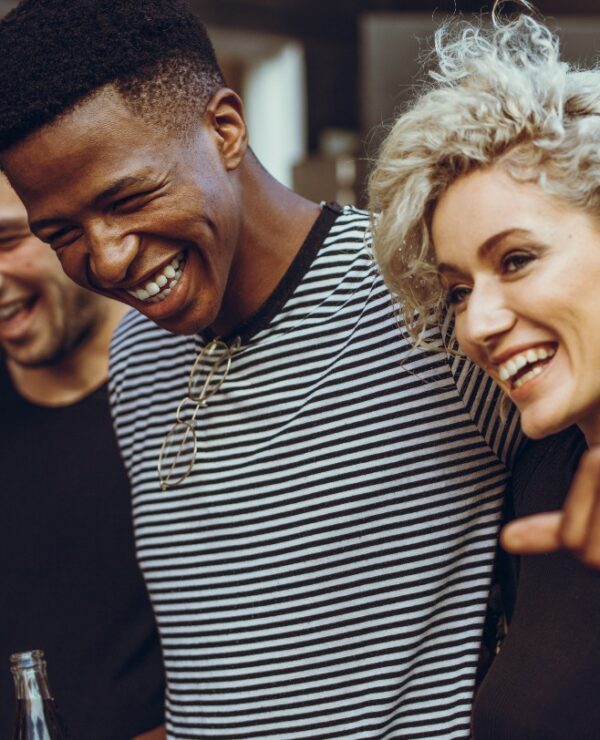 Sounds three times as good, does you three times as good.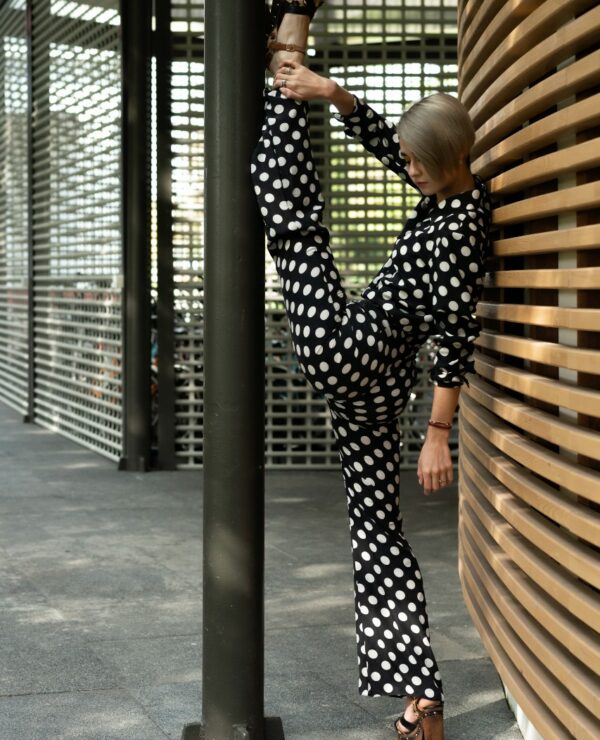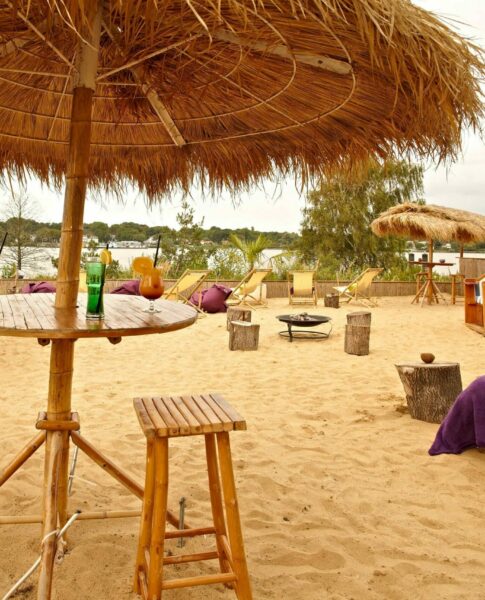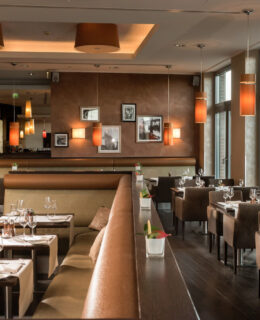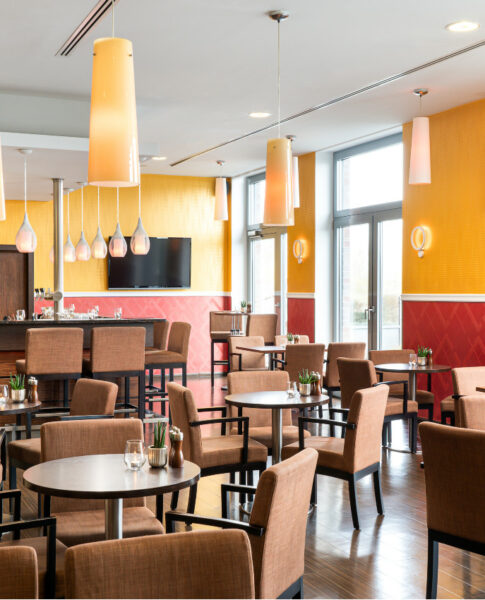 Restaurant, Bar & Beach Bar
The Elbe River is always in view
The River View Restaurant in Finkenwerder is a feast for the eyes in two ways, with tantalisingly tasty food on the plates and a fabulous view through the window frontage. The caramel-coloured chairs with backrests and armrests and the direct and indirect lighting also add to the atmosphere. Sitting in a beach chair with a view of the Elbe and an Aperol Spritz in your hand, this is possible during the summer months in our beach bar. But you can also indulge at any time with tasty drinks and in a comfortable atmosphere at our hotel bar. Just stop by and visit us!
Meetings & Events
Modern technology and the right rooms alone are not enough to make sure your events are not just successful, but also memorable. Our hotel in Hamburg offers both, not to mention exclusive cuisine and an inspirational setting. Our lovely team is ready and waiting for your enquiry!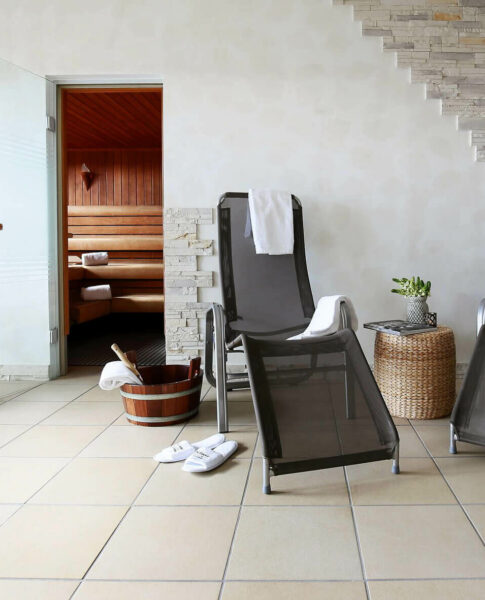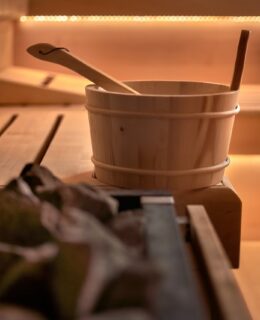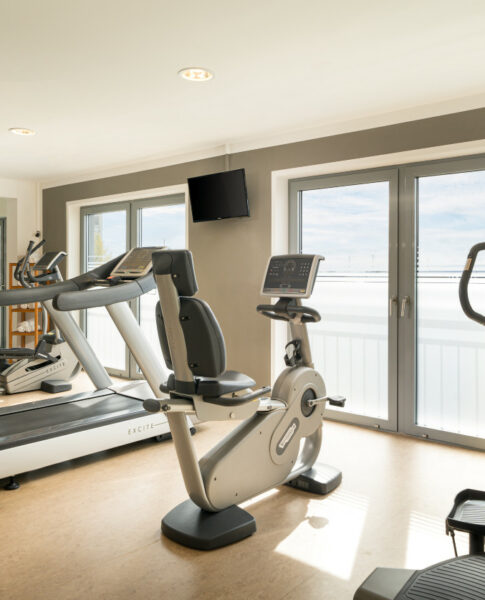 Sauna & Gym
Unwind, dream and retreat mentally
Our sixth-floor sauna is the perfect place to relax the body and mind and recharge your batteries. Watching the Beluga aeroplanes land on the Airbus site has an almost meditative feel to it. The carefully adjusted lighting adds another relaxing note to your well-earned sauna experience.
Our location
Location & contact
Of course, you can travel to the elaya hotel hamburg finkenwerder by car. But the shuttle ferry is a great alternative if the journey is to be part of your holiday experience or your event. After all, our hotel is right on the river Elbe, it's important to make the most of that!
Need help?
Contact us at +49 (0) 40 3008490 or send us an email
FAQ
Find answers to your questions here
General
Food & Drinks
Rooms
Can I park directly at the hotel?
Yes, there are 90 parking spaces available. The daily parking fee is 12 € between Monday and Thursday. A flat rate of 5 € applies from Friday through Sunday.
Can a bus park at the hotel?
Yes, we've got two free bus parking spaces.
What are the opening hours of the reception?
Our reception is there for you 24/7!
Is there a possibility to arrive late?
Yes this is possible. Please inform us beforehand if you are going to arrive after 10:00 pm.
Can you arrange early check-in or late check-out?
Both is possible. These are the prices:
Check-In from 12:00 pm: 30€
Check-Out bis 02:00 pm: 30€
Check-Out bis 05:00 pm : 50€
Can I bring my pet with me?
Sure! Your pet is welcome all the time.
The first is free. We charge 15€ per pet for additional pets..
We are travelling with children, what is the regulation here?
Up to and including the age of 12, your children can sleep in your room for free. They can also have breakfast for free.
Can minors book on their own?
Yes, we require a declaration of consent from the parent or guardian and a copy of the passport.
What is the location of the hotel like?
The hotel is located in Finkenwerder directly at the Elbe river. At our hotel there is a ferry pier where ferries stop regularly to take you to the city.
How much does breakfast cost?
Our breakfast buffet costs 20€ per day/person.
Does the hotel have a bar?
Yes, we have a hotel bar. It is open at the following times:
Sunday to Thursday:
12:00 pm – 12:00 am
Fridays and Saturdays:
12:00 pm – 01:00 am
Does the hotel also serve lunch and dinner?
Yes, our River View restaurant serves lunch and dinner. It is openend to the following times:
Monday-Saturday:
12:00 pm – 02:00 pm as well as 06:00 pm – 09:00 pm
Which room categories do you have?
We have rooms in the categories standard, superior, deluxe and executive. There are also suites.
What are the differences between the room categories?
The rooms differ in size, furnishings and view. Rooms in the standard category do not have a view of the Elbe rier. The suites also have a separate living and sleeping area.
Does my room have a minibar?
Yes, you've got a minibar on your room.
Do you have rooms with separate beds?
Yes, there are rooms where the beds can be pushed apart.
Are there rooms with a connecting door?
Yes, depending on availability, you can book rooms with a connecting door.