Hurrah for a great kitchen and bar!
What are you in the mood for? Really good, modern cuisine using local produce from regional suppliers? Or are you content with the simple pleasure of a drink, a snack and view of the Elbe? Maybe you're more of a night owl who enjoys your regular nightcap? As a guest of our Restaurant & Bar Finkenwerder Elbblick, all your wishes will be granted. Garnished with a portion of Hanseatic charm, of course.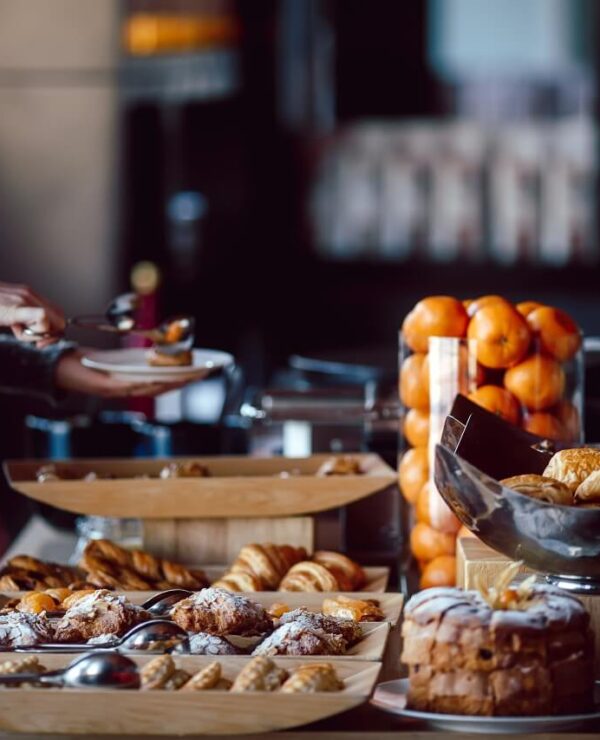 Celebrate with us! On the 25th of December from 11:30 am till 2 pm we offer our Christmas brunch and are excited for you to come. Aside from the food, one aperitif as well as coffee, tea, water, and juices are included.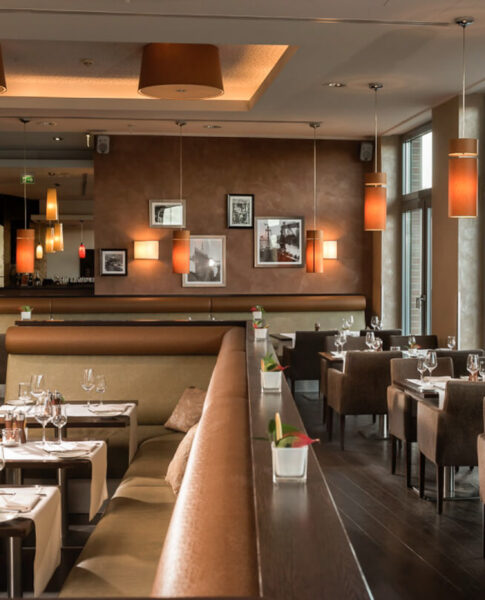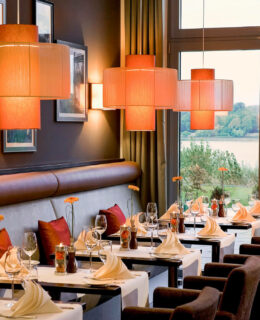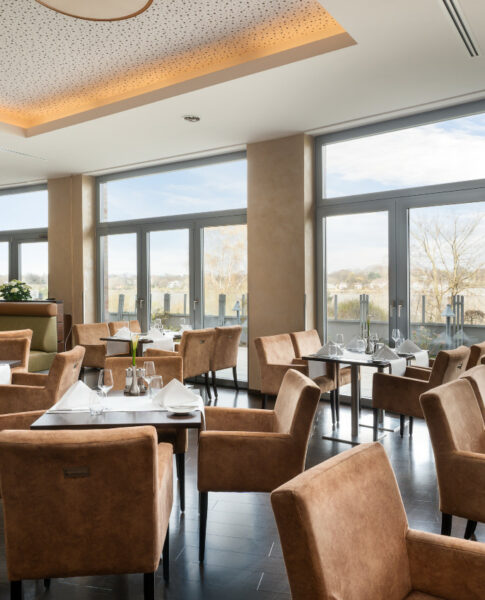 Restaurant River View


In the Restaurant Hamburg, beautiful views are permanently on the menu, by which we don't just mean the view of the Elbe, but also of the food itself. We pride ourselves on serving 'Hamburg on a plate', but we also look beyond the traditional specialities of our Hanseatic city. In our modern crossover kitchen, we work with regional partners who keep us supplied with fresh local produce.
Opening hours
Monday till Saturday
12:00pm – 02:00pm
06:00pm – 10:00pm
Sundays
Rest day
To the restaurant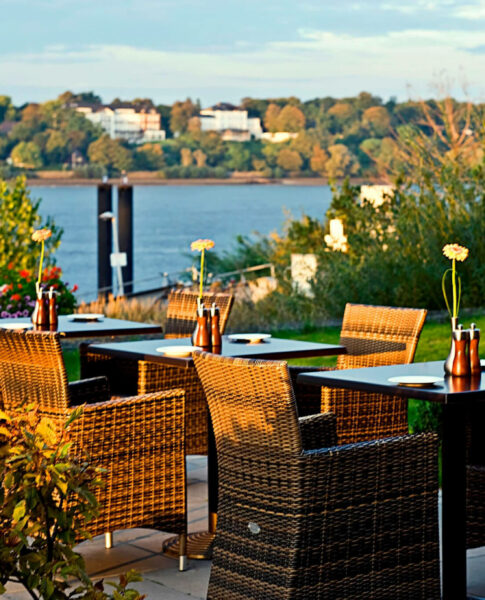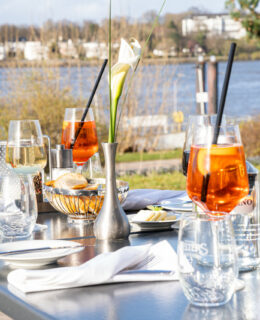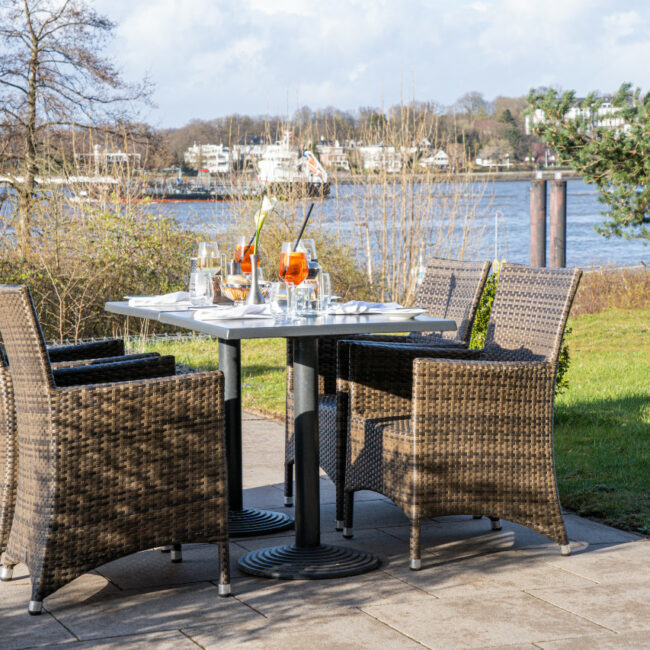 River View Restaurant with summer terrace
The gateway to the world? Admittedly, that may be a bit of an exaggeration, but there is grain of truth in the claim. After all, our Finkenwerder Elbblick restaurant has a superb view of the Elbe, not only from the interior, but also from the summer terrace which offers unrestricted views of the great waterway that leads out into the world. Here you can enjoy your food and drinks and the sight of passing ships all day long.
Opening hours
Monday till Sunday
12:00pm – 02:00pm
06:00pm – 10:00pm
Sundays
Rest day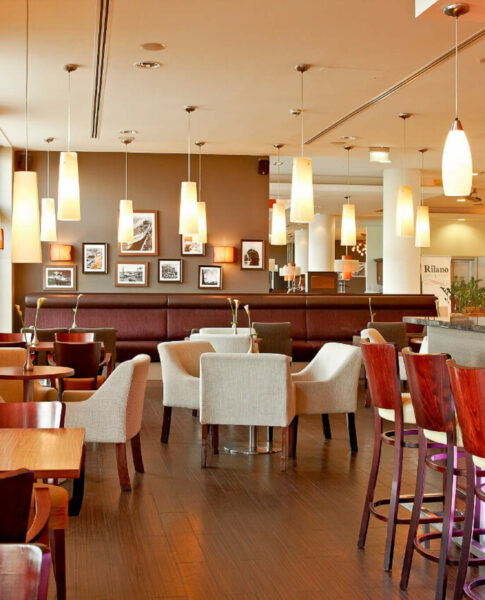 Fusion Bar: Good conversation, excellent cocktails
We all know their like from the movies, the kind of bar where you immediately feel at home, where the atmospheric lighting stimulates quality conversation, where you are happy to order an extra cocktail and where the collection of fascinating photographs on the wall tells a tale. This cinematic setting becomes reality the moment you enter our Fusion Bar and lean back in the comfortable chairs.
Opening hours
Sunday till Thursday
12:00pm – 00:00am
Friday and Saturday
12:00pm – 01:00am
Warm meals served:
Monday till Saturday
12:00pm – 02:00pm
06:00pm – 01:00am
Sundays
06:00pm – 09:00pm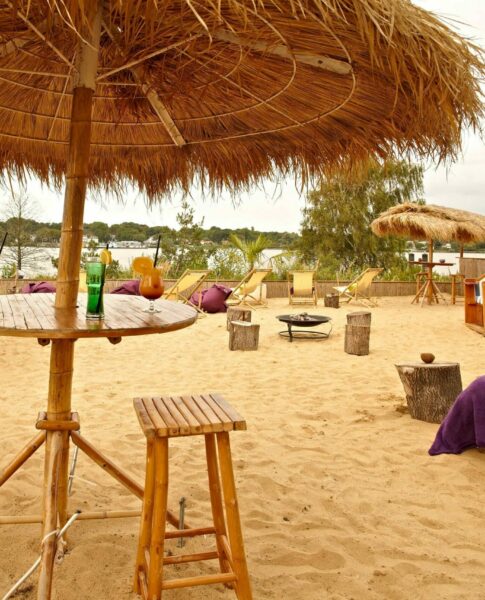 Also a place to do business: Meet me at the Beach Bar!
You and your business partners or your best friend don't have to take off your socks and shoes the minute you enter our Beach Bar. But we admit, it's a temptation, because the beach chairs and sun loungers on the banks of the Elbe give out distinct summer vibes. With a drink in hand, views of the river and culinary delights to savour, you would be quite happy if time were to stand still.
Öffnungszeiten
Contact us if you want to book our Beach Bar!
Telefon: +49 40 3008490
E-Mail: hamburg-finkenwerder@elaya-hotels.com
Send Mail