elaya hotel wolfenbuettel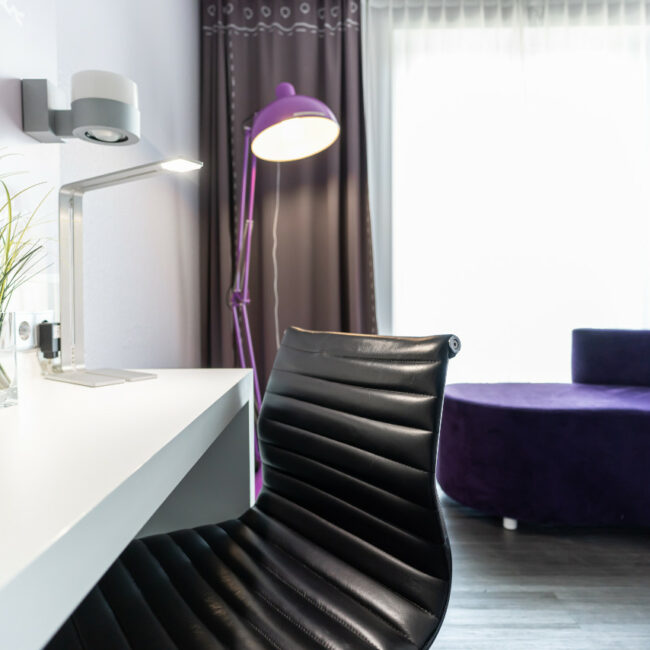 Hotel Wolfenbuettel: stylish home and work base
Work or leisure? Contemporary or historical? Culture lover or outdoor type? Who says you can't have it all? The elaya hotel wolfenbuettel is the best proof that contrasts, when brought together, are a recipe for very special memories – be it a holiday or a business trip. At the heart of Lessing's town, close to the Oker river, you can explore the highlights of the former residence town on foot, enjoy sporting activities in the surrounding area or recharge your batteries in our quiet rooms.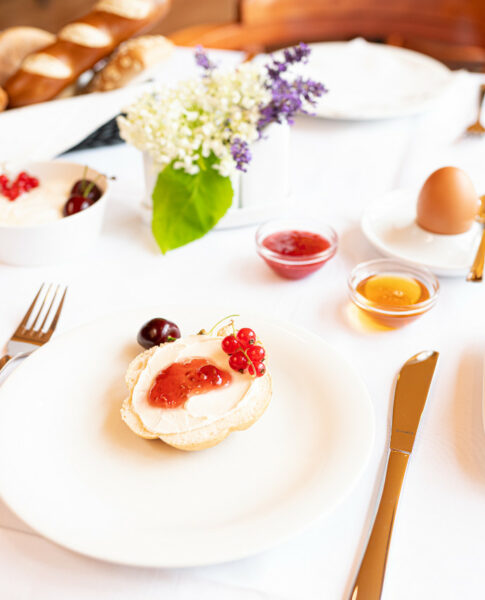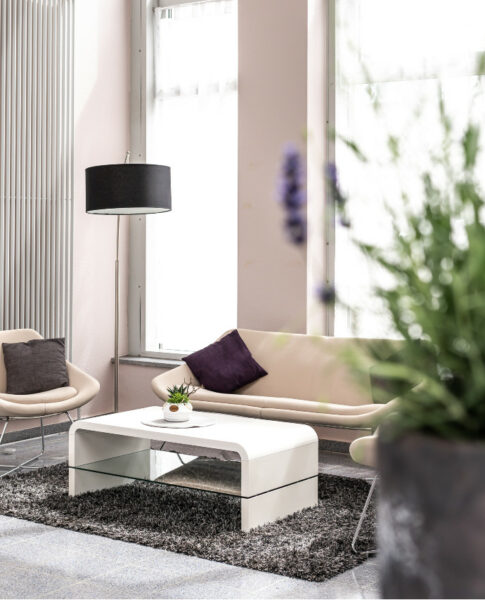 elaya hotel wolfenbuettel
When a town and hotel make history
Wolfenbuettel is known for its large, splendid buildings, its half-timbered houses and the world-renowned library Herzog August Bibliothek – it is referred to as Lessingstadt (Lessing's town). You can also hike, cycle and canoe in the region. Hotel Wolfenbuettel is the perfect starting point for adventures both big and small. With our copious breakfast buffet – also much-loved by the locals – you can get your day of work or leisure off to an ideal start. And if you'd like a little downtime in between, the bedrooms are a real haven of calm.
Guest Reviews
Happy Hubbub: The Buzz from Our Beloved Guests!
15.11.2023
Jeffery
Positive: We chose the hotel based on the location; extremely convenient to the train station and to the city center. We had been to Wolfenbuttel before to...
17.08.2023
Juan
Positive: Great breakfast in a beautiful room.
14.08.2023
Christine
Positive: Friendly staff.
27.04.2023
SONILA
Positive: deserves 5 stars!!!! we enjoyed our stay there.
06.02.2023
Ruth
Positive: Allesķ.
elaya hotel wolfenbuettel
Photos
If you're curious as to how the colour purple can be stylishly integrated into an understated colour concept and why love letters play such an important role in our bedrooms, you should take a look at our photo gallery. And if you get a craving for breakfast while you're there, then we've done our job …
Offers
Here at hotel Wolfenbuettel, you can choose whether to settle on an offer from the start or to book individual services later on. Either way, you'll always get a great deal – and that's a promise. You can pick and choose your favourites here in our overview …
Insider tips
Are you curious and adventurous by nature? Then we recommend chatting with our insider or taking a look at our online tips. We don't hold back – we not only share the must-do excursions, but also the hidden highlights of Wolfenbuettel and the surrounding area.
Photos
Your feel-good place in the heart of Wolfenbuettel.
Photos
You will become an early bird if you witness our breakfast.
Photos
Make yourself feel at home.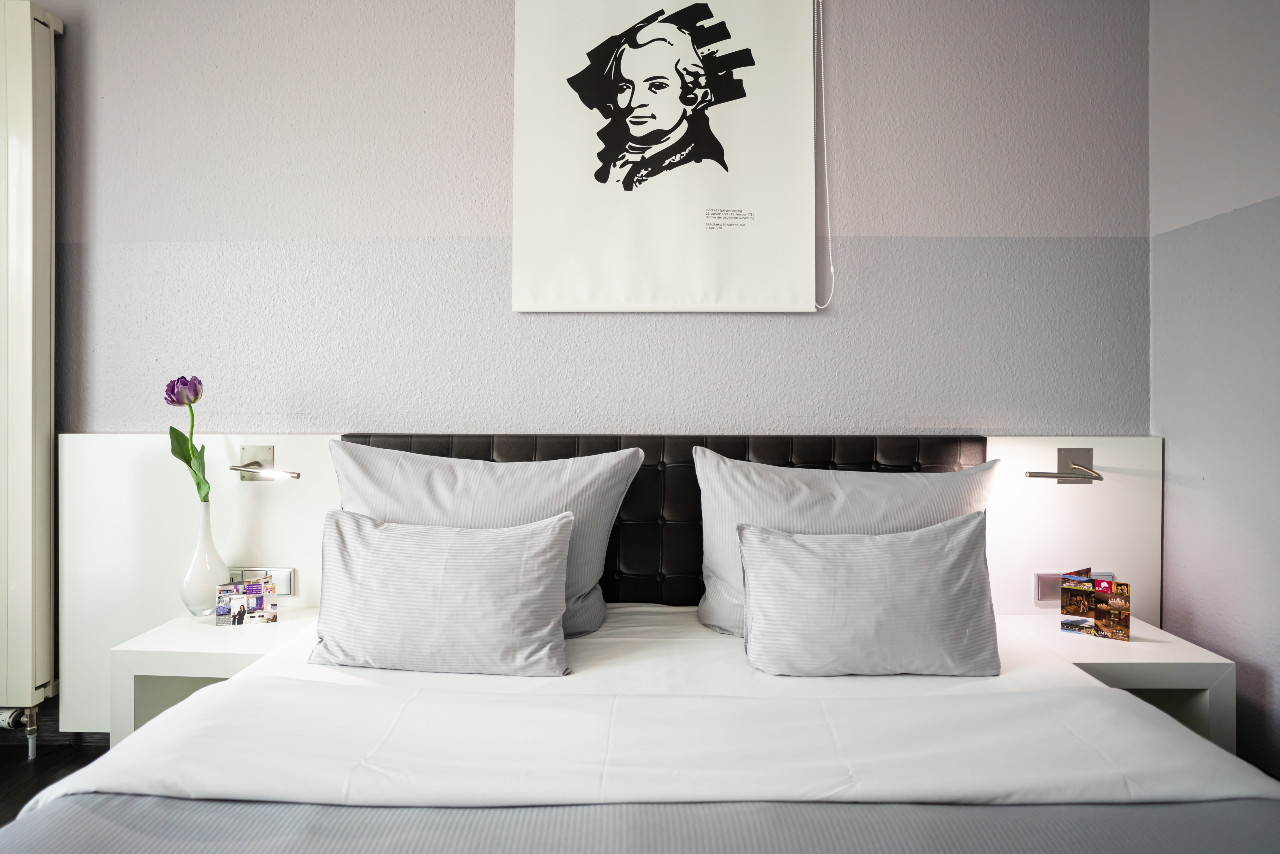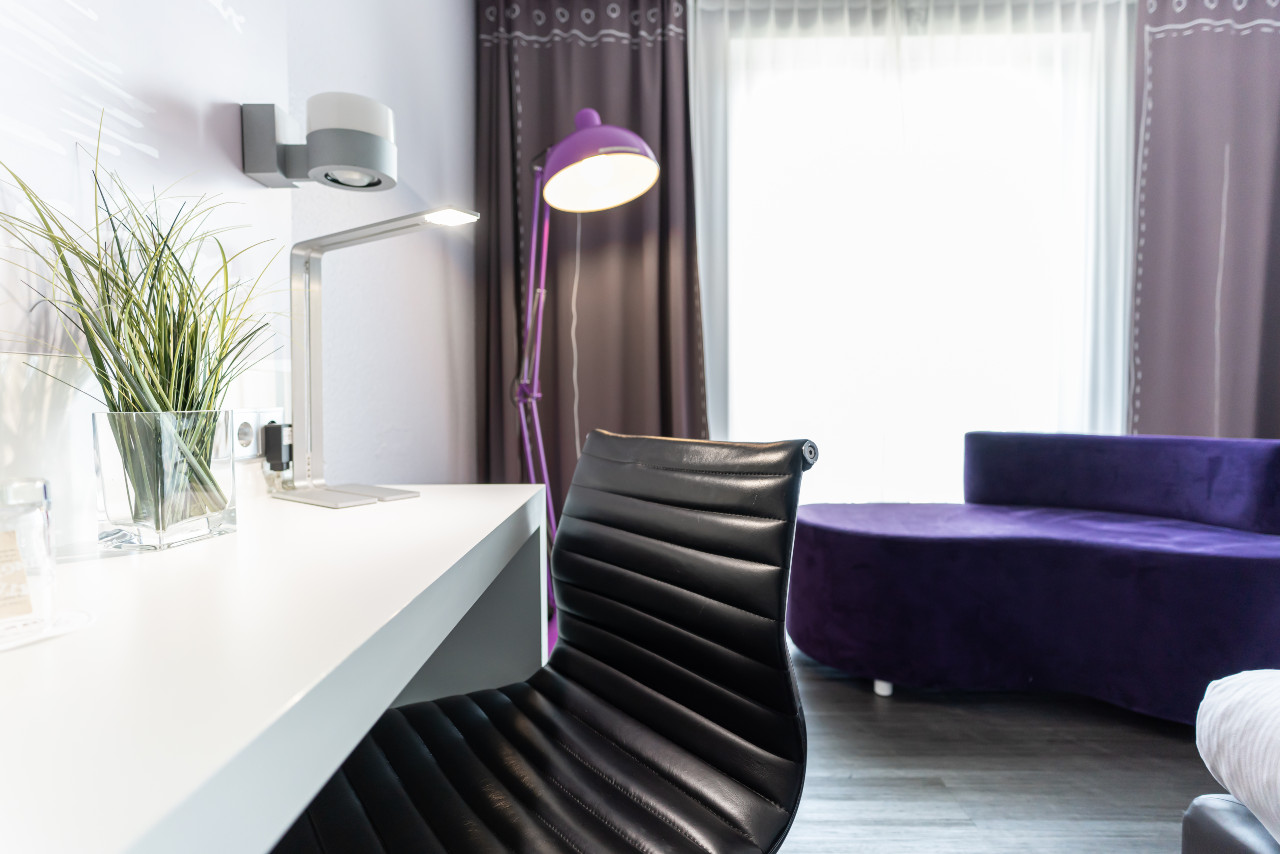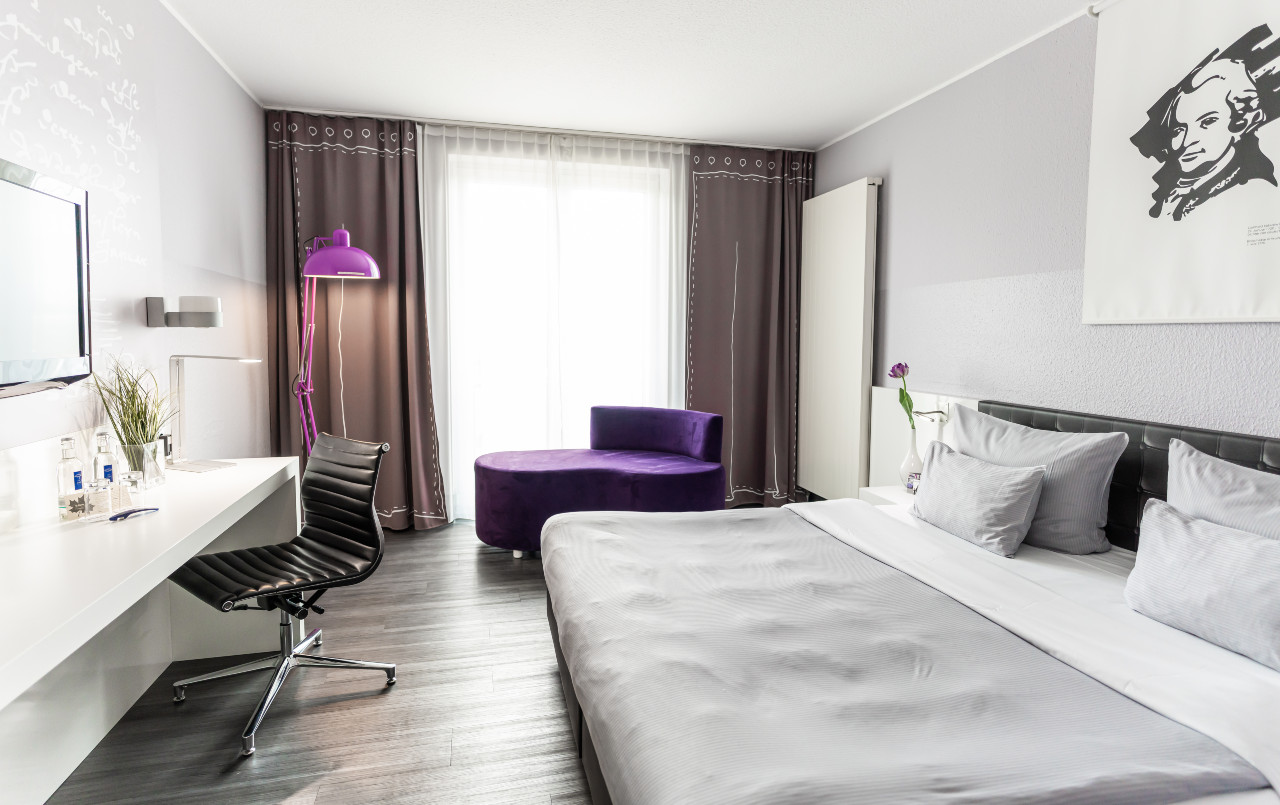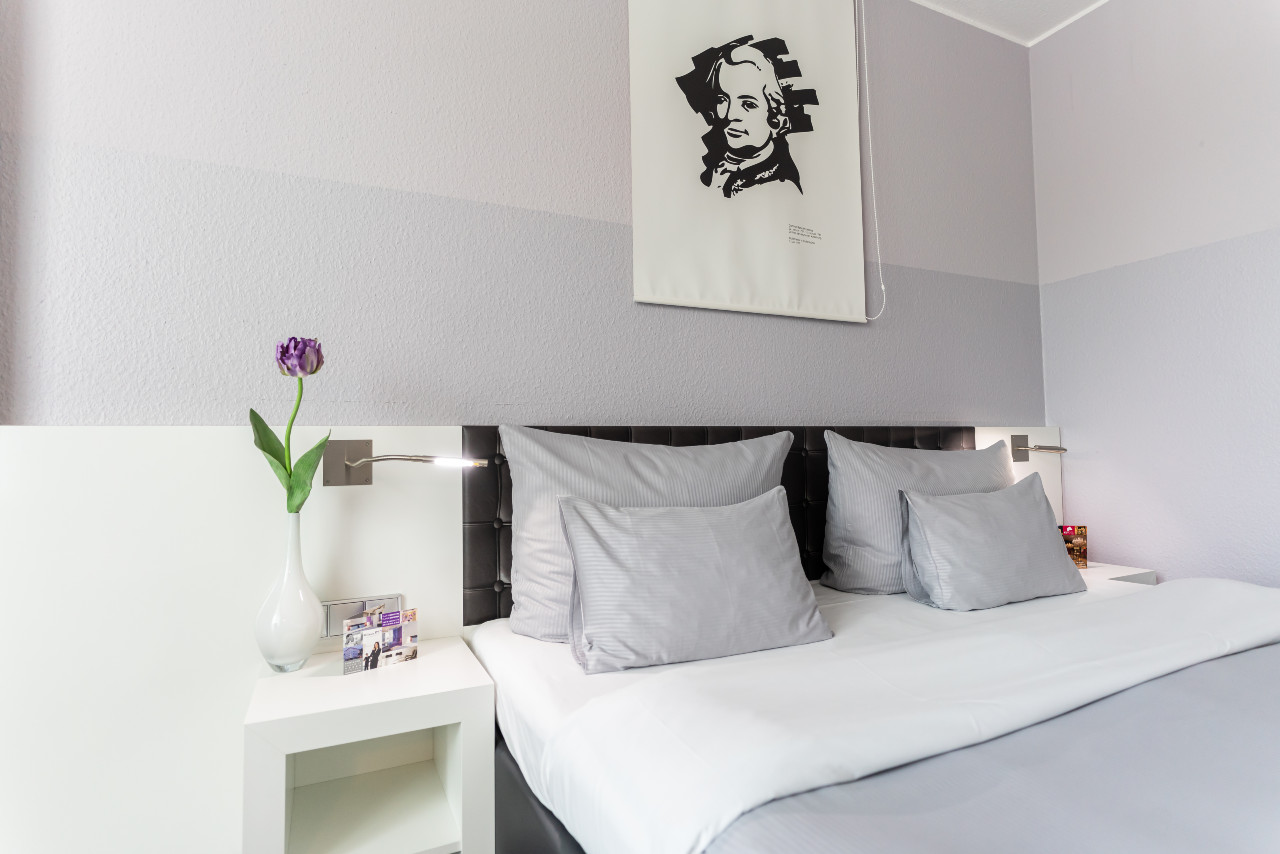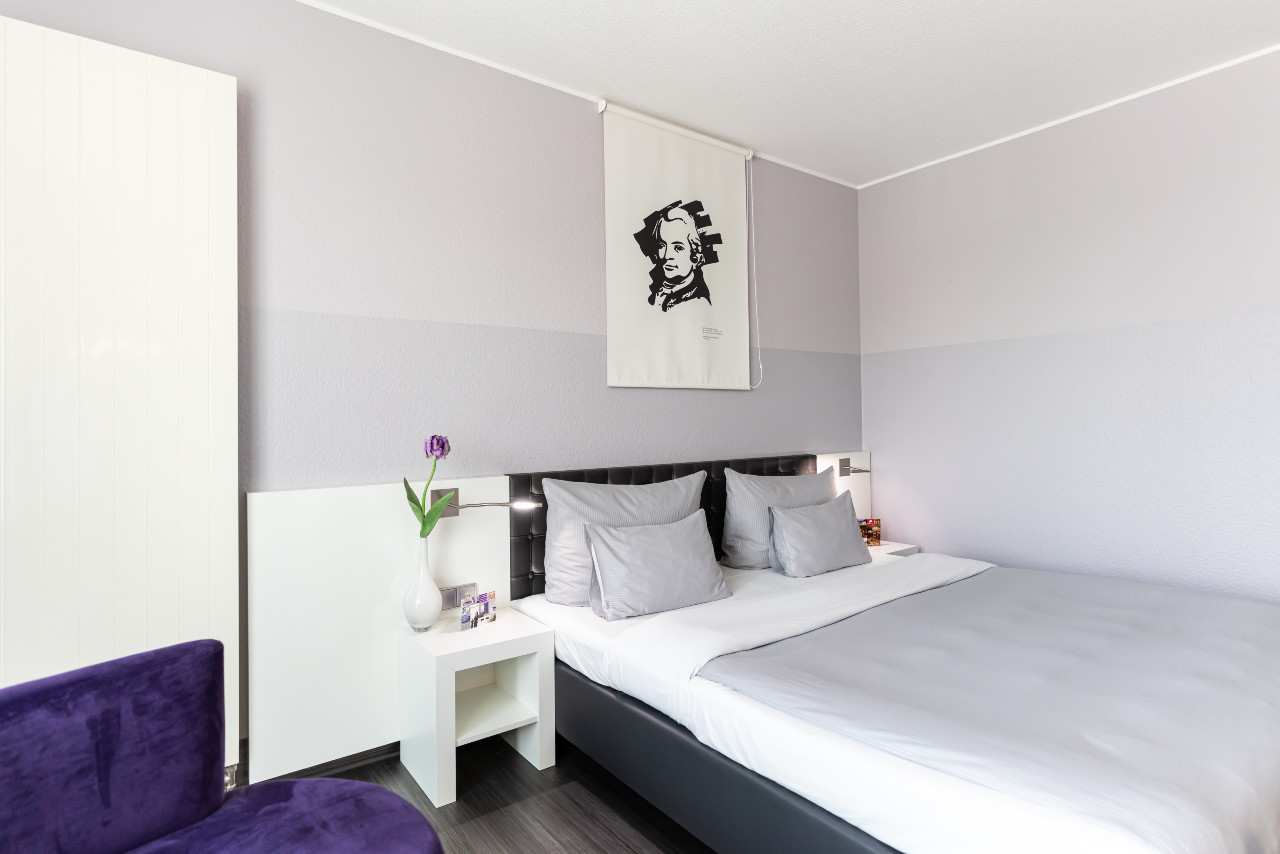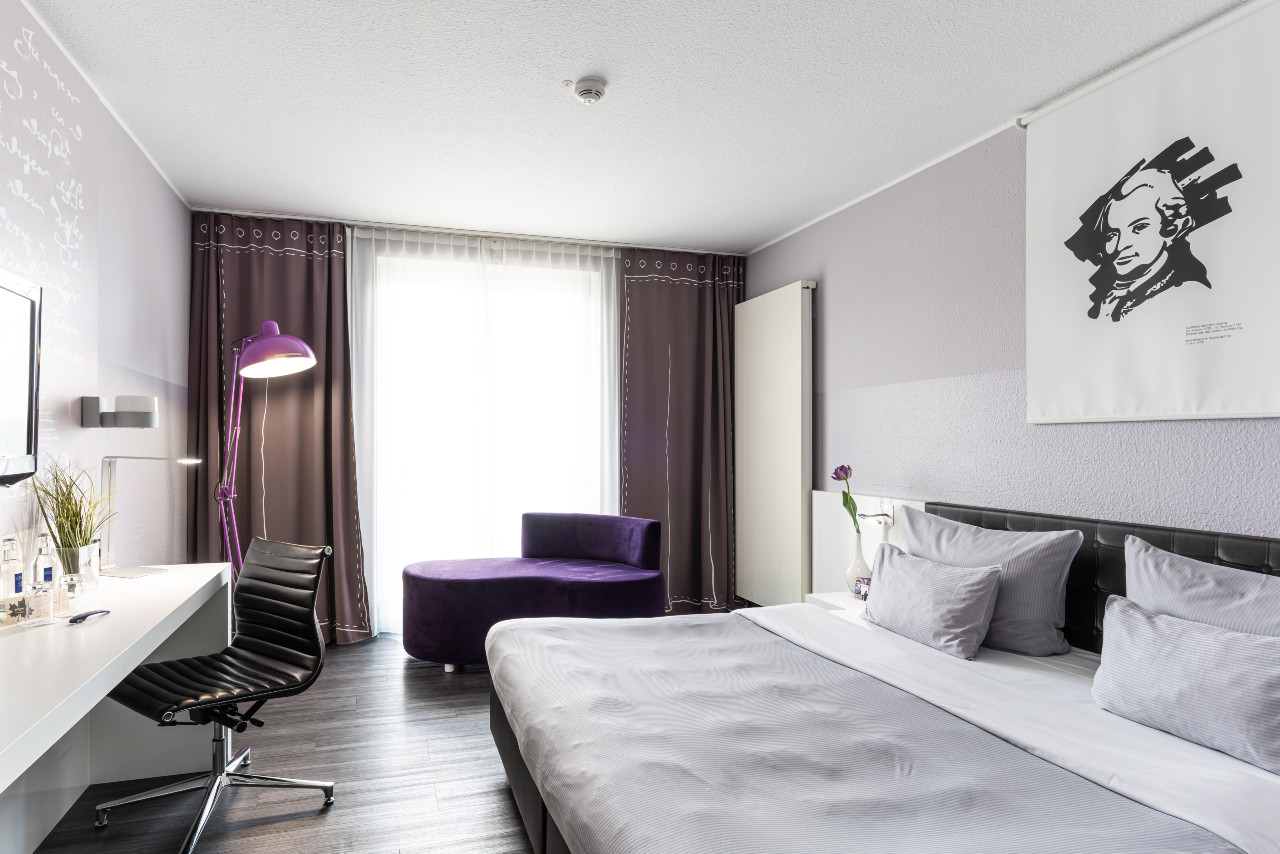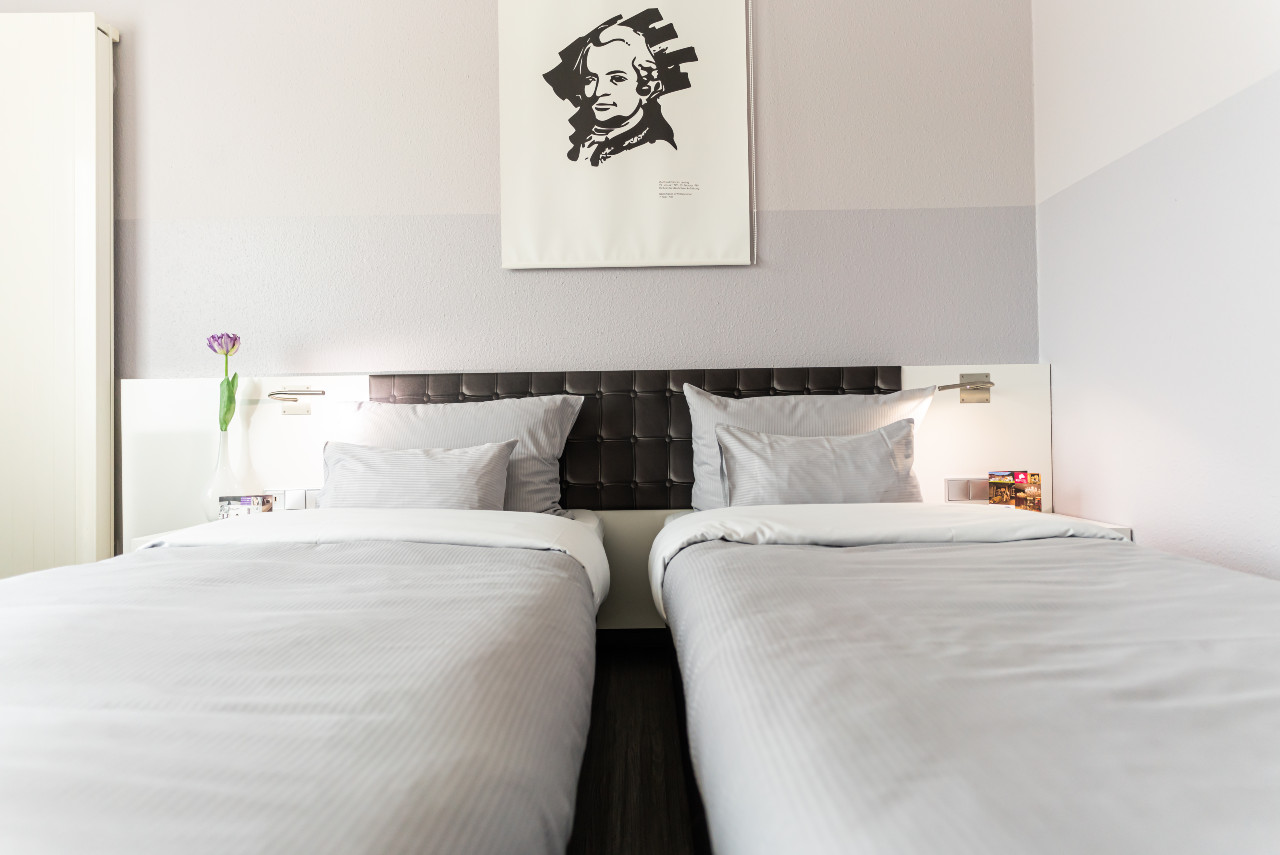 Standard Rooms
The lilac-coloured walls bring together modern whites and greys and the purple curtains, lamp and chaise longue. A picture of Lessing adorns the bed's head end, with a love letter composed by him on the opposite wall.
28 sqm
Free Wi-Fi
Shower or Bathtub
Good Sleep Package
Flatscreen TV
Book room
Hotel deals
Deals that will make you happy.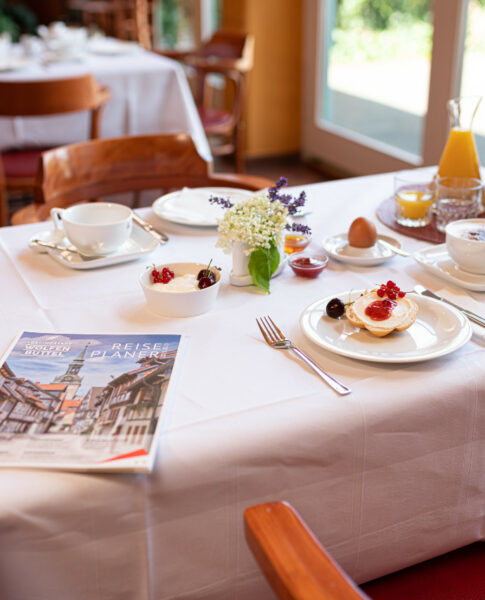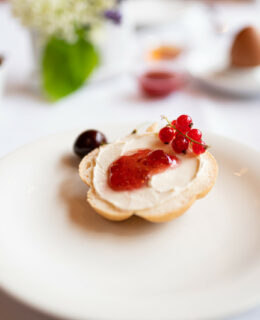 Breakfast in Wolfenbuettel
Restaurant and bar
The breakfast area brings a dash of that American bar feel to Wolfenbuettel mornings. In this unexpected setting, we offer a copious buffet with both hot and cold items.
Meetings
What is the most important feature of a conference hotel? Its easy accessibility and central location. Hotel Wolfenbuettel ticks all the boxes in this respect, just as it does for variable event spaces – we have six – and flexible catering. And all this for between ten and 300 guests!
Our location
Location & arrival
We would describe our location between the Harz and the heathland as Germany's sweet spot. And you can reach us conveniently by train, of course – the main station is just a minute's walk from elaya hotel wolfenbuettel – or by car, which can be parked right by the front door.
Contact us at: +49 (0) 5331 98860 or send us an e-mail
FAQ
Here are answers to frequently asked questions.


General
Food & Drinks
Rooms
Can I park at the hotel?
Yes, there are up to 150 parking spots at the hotel.
How much does a parking spot cost?
Our guests park for free.
Can I bring my pet?
Of course. Whether dog or cat – the first animal is free of charge. We charge 15€ for each additional pet.
Is the reception open 24/7?
No. On weekdays the reception opens from 6:00am till 9:00pm. On the weekend and on holidays it is open from 8:00am till 04:30pm.
What are the check-in and check-out hours?
Check-in starts at 3:00pm. Please check out until 11:00am on your departure day.
Are children welcome at your hotel?
Yes, children up to 12 years get breakfast and are allowed to stay in your bed for free.
Is there a bar?
There is no bar, during the operation hours you are able to buy snacks, drinks and further more.
What time is breakfast served?
These are our breakfast hours:
Monday till Friday:
06:30am – 09:30am
Saturday, Sunday and on holidays:
07:30am – 10:30am
Do you also offer lunch and dinner?
No, we only offer our breakfast. If you would like to have some tips, just ask us.
What are your room categories?
Do I have a safe in my room?
No, there are no safes available in our rooms.
Is there an air-conditioning?
Unfortunately there is no air-conditioning.