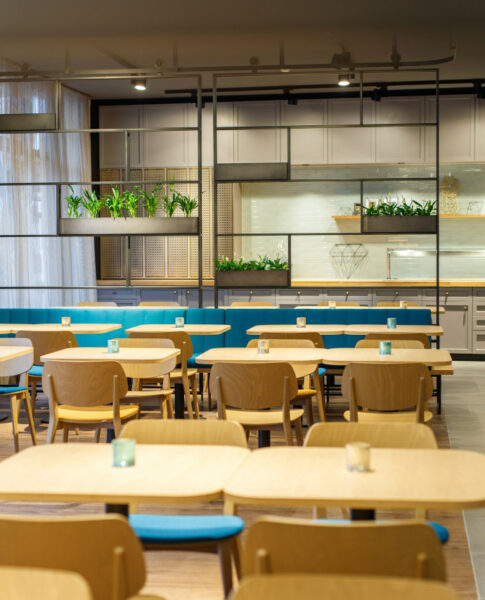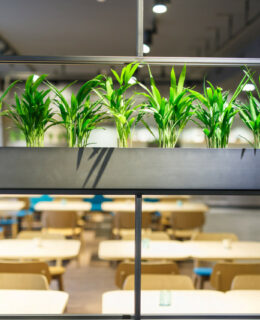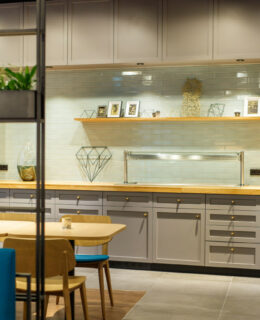 The breakfast restaurant
Breakfast Goeppingen. Start the day the right way.
In the large, airy breakfast room, you have a splendid view of the historic town centre through the large picture window which we've hung with beautiful floor-to-ceiling curtains. We've also embellished the breakfast area with brightly coloured furniture and vinyl flooring. The chair cushions and bench upholstery provide a warm, blue-yellow splash of colour. After all, there's no reason why our guests shouldn't enjoy the first meal of the day in cheerful, friendly surroundings. At the far end of the room is the buffet serving hot and cold dishes. The Göppingen breakfast selection ranges from freshly baked bread and various cheeses to fruit and yoghurt, from scrambled eggs, sausages, muesli and salmon to pancakes. Options for vegetarian or gluten-free diets are also available.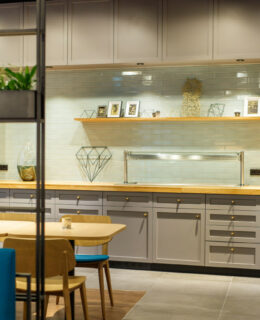 Breakfast Goeppingen
First things first. Coffee.
Breakfast Goeppingen
Always a free seat ready for you!
Breakfast Goeppingen
The buffet at the elaya hotel goeppingen